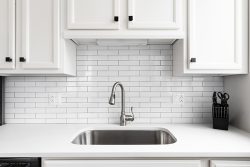 The kitchen sink is an essential element in any kitchen, serving as a workstation for food preparation, dishwashing, and other daily tasks. With a wide range of options available on the market, choosing the right kitchen sink can feel overwhelming. In this blog post, we will guide you through the process of selecting the perfect kitchen sink that suits your needs and complements your kitchen design.
1. Consider Sink Material:
The material of the kitchen sink plays a crucial role in its durability, maintenance, and overall aesthetics. Common sink materials include stainless steel, cast iron, granite composite, porcelain, and fireclay.
– Stainless Steel: Stainless steel sinks are popular for their durability, resistance to stains and heat, and ease of maintenance. They also offer a sleek, modern look that blends well with most kitchen styles.
– Cast Iron: Cast iron sinks exude a timeless charm and are known for their durability. They can withstand high heat but require regular maintenance to prevent chipping and staining.
– Granite Composite: Made from a blend of granite stone and acrylic resins, granite composite sinks offer durability and resistance to scratches and stains. They are available in various colors and styles, adding a touch of elegance to your kitchen.
– Porcelain: Porcelain sinks feature a classic, glossy white finish and are known for their aesthetic appeal. However, they are more prone to chipping and discoloration over time.
– Fireclay: Fireclay sinks are made by fusing clay and glaze together at high temperatures, resulting in a smooth, durable surface. They offer a traditional, farmhouse-style look that adds character to your kitchen.
2. Size and Configuration:
Choosing the right size and configuration of your kitchen sink is vital to accommodate your cooking and cleaning needs. Consider the available space in your kitchen and the typical size of the dishes you handle.
– Single Bowl: Ideal for smaller kitchens or those with limited counter space, a single bowl sink offers a simple and compact design. However, keep in mind that it may not be as versatile for multitasking.
– Double Bowl: A double bowl sink provides separate compartments for washing and rinsing, allowing for simultaneous tasks. It is suitable for larger kitchens and households that frequently handle a large volume of dishes.
– Farmhouse Sink: With a deep and wide basin, farmhouse sinks offer ample space for bulky pots and pans. They have a front-facing apron that adds a rustic and charming element to your kitchen.
– Undermount vs. Top Mount: Undermount sinks are installed beneath the countertop, providing a seamless and clean look. Top mount sinks sit on top of the counter, making installation easier and allowing for more design flexibility.
3. Consider the Sink Configuration and Accessories:
To maximize functionality, consider additional features and accessories that can enhance your kitchen sink experience.
– Drainboard: Including a built-in drainboard can provide a convenient space for drying dishes and utensils, minimizing countertop clutter.
– Cutting Board and Colander: Some sinks offer integrated cutting boards and colanders that fit perfectly on top of the sink, providing a dedicated space for food preparation and cleaning.
– Grids and Sink Protectors: Grids and sink protectors can prevent scratches and dents on the sink's surface, prolonging its lifespan and maintaining its appearance.
4. Budget and Quality:
Determining your budget early in the selection process can help narrow down your options. Keep in mind that the quality of the sink and its installation is crucial for long-term satisfaction. Investing in a high-quality sink will ensure durability, resistance to stains and scratches, and ease of maintenance.
Conclusion:
Choosing the right kitchen sink involves considering various factors such as material, size, configuration, and additional accessories. By assessing your specific needs, kitchen space, and personal aesthetic preferences, you can find a sink that perfectly complements your kitchen design while accommodating your daily cooking and cleaning tasks. Remember to prioritize quality and durability to ensure a long-lasting and functional addition to your kitchen.
Got Questions? Let Us Help!
Welcome to Apple Construction LLC.! Apple Construction LLC. has been in business since 2015 and has been serving Santa Fe, New Mexico and surrounding areas ever since. We specialize in new construction, remodels, additions, design consultations and planning, and so much more! At Apple Construction, LLC., we pride ourselves on our customer service and honesty. We provide each of our clients with quality work and dependability. Apple Construction LLC. has been locally owned and operated for the past 30 years and counting. We have local ties with the Chamber of Commerce and we are also proud members of the Better Business Bureau. Give us a call today and we'll get started on your dream home!
Categorised in: Kitchens